Experienced Heating Equipment
Supplier
Who We Are
Texas Heating Equipment was founded in 1983 by Alan Lyon. Alan brought years of experience in furnace design and structural steel engineering to the company. Texas Heating then branched out and began performing calibrations and uniformity surveys in 1984, and this branch of the business soon became Texas Heating's specialty. Erich Lyon began working for the company in 1997 and became President in 2004.
Texas Heating Equipment Co. became an ISO 9001:2008 accredited company in 2015. In 2017-18, we became registered in recognition of a quality management system demonstrated in conformance with ISO 9001:2015. The company specializes in aerospace calibrations and temperature uniformity surveys, as well as general process heating equipment sales and service. Keep scrolling to learn more about Texas Heating.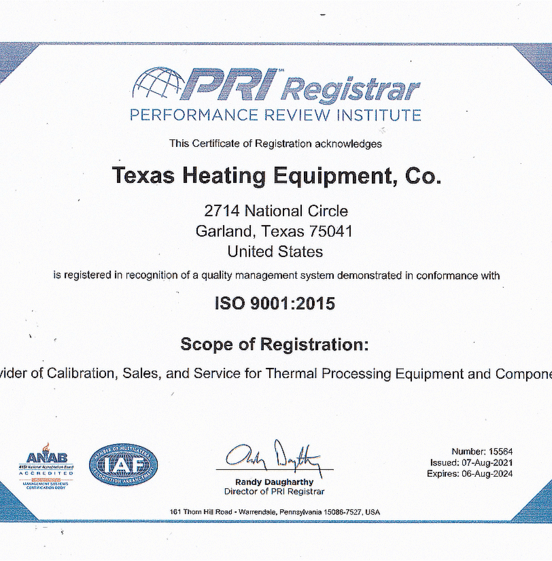 Absolute Service With Absolute Precision
To guarantee a solid reputation for the highest standard of calibration and repair services, our organization has developed a Quality Management System to better satisfy the needs of our customers and to improve the success of the company.
In doing so, this quality policy has been formulated, implemented, and is committed to:
Good Professional Practice and Providing the Highest Quality of Testing and Calibration

Continually Improving the Effectiveness of the Quality Management System
Ensuring All Personnel Are Familiar With the Quality Management System and Implement the Stated Methods in Their Work

Complying With All Customer Requirements, as Well as Those Defined in the ISO9001:2015 and ISO17025:2005 International Standards
We look forward to serving you.